The Importance of the EFI: Transform Kitchen Exhaust Systems
In the world of kitchen exhaust system maintenance, there's a groundbreaking solution that's changing the game – the Exhaust Fan Interceptor (EFI). This patent-pending innovation is a true game-changer, and here's why it's crucial for your kitchen establishment:
Eco-Friendly Rainwater Management
The EFI is not just another product; it's the only one of its kind on the market. What sets it apart is its ability to process rainwater, allowing it to escape freely. This means no more worries about rainwater flooding your roof due to grease buildup. But it doesn't stop there; the EFI goes a step further by facilitating wash water recovery during servicing. It's an eco-friendly choice that helps protect the environment.
NFPA96 Compliance for Fire Safety
Safety is paramount in any kitchen, and the EFI is specially designed to comply with NFPA96 regulations. It's a compliant receptacle for handling waste oil, ensuring your kitchen meets fire regulations. By maintaining the integrity of your roof system and protecting the storm drain, the EFI plays a vital role in preventing potential fire hazards.


Preventing Chemical Contamination
Traditional kitchen exhaust cleaning methods often involve the use of caustic chemicals. The EFI, when used on a quarterly cleaning schedule, can prevent a staggering 600 gallons of these harmful chemicals from entering the storm system each year. This not only safeguards the environment but also reduces your environmental footprint.
Preserving Your Roof and Reputation
Maintaining a clean and presentable kitchen is essential, especially when it comes to fire inspections. The EFI prevents early roof replacement by keeping your roof and surrounding area free from grease buildup. It's a solution that preserves both your roof's integrity and your establishment's reputation.
Enhanced Grease Management
The EFI is designed to handle all the grease you can possibly cook up. It captures grease release from exhaust fans, ensuring that all types of grease and oils are trapped, allowing only water to escape. This level of grease management is essential for a safer and cleaner kitchen environment.
All-Weather Reliability
No matter the weather conditions, the EFI delivers consistent performance. Whether it's rain, shine, or snow, you can count on it to keep your kitchen exhaust system efficient and safe.
Built to Last
The EFI is not a short-term solution. Constructed from high-quality SX 304 Stainless steel with a 17-gauge thickness, it's built to last a lifetime. With an oil receptacle capacity of 1 gallon and a liquid capacity of 7.1 gallons, it can handle the toughest challenges. Its maximum oil capacity before failure is an impressive 6.1 gallons.
In conclusion, the Exhaust Fan Interceptor (EFI) is not just a product; it's a solution that addresses critical aspects of kitchen exhaust system maintenance. From eco-friendliness to fire safety, from preventing chemical contamination to preserving your establishment's reputation, the EFI is a multifaceted tool that every kitchen establishment should consider.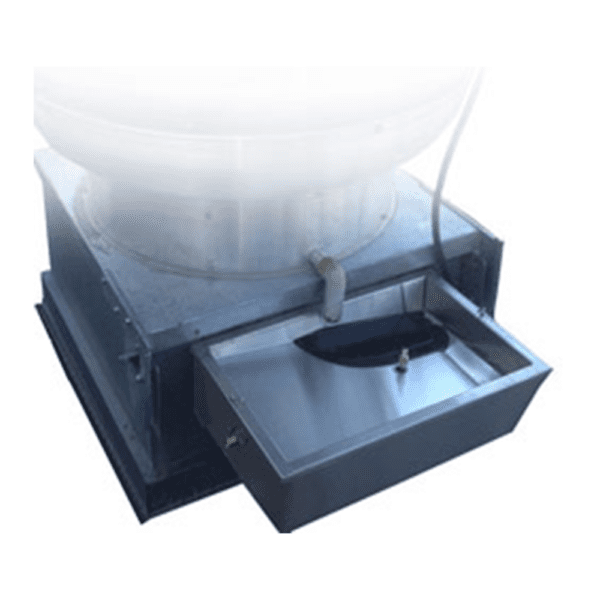 Exhaust Fan Interceptor


The Exhaust Fan Interceptor 360™ (EFI™) is the only product on the market that processes rainwater, allowing it to escape freely, but facilitates wash water recovery during servicing. The EFI™ allows unlimited amounts of rain to escape the fan without grease onto the roof.
Don't wait; make the smart choice for your kitchen's future. Choose the EFI – the ultimate solution for exhaust system excellence.